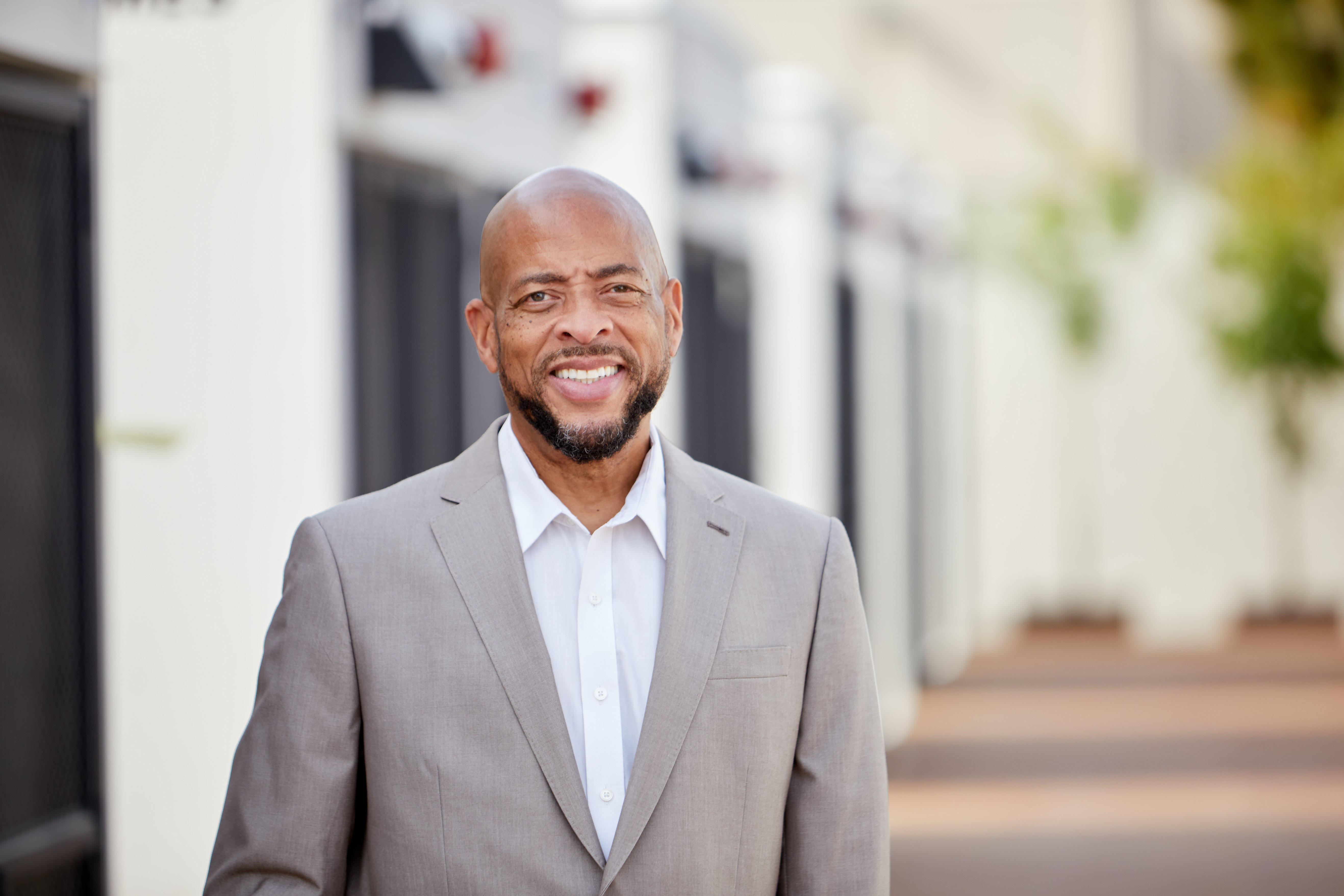 In conversation with Aubrey Merriman, LifeMoves
Aubrey Merriman just joined LifeMoves as their new CEO. Eight days into his new role, we sat down with him to talk about their recent expansion to the Coastside, the launch of their innovative Mountain View interim housing project and his hopes and vision to end homelessness in Silicon Valley.
---
You have just joined LifeMoves as their new CEO. Tell us more about the organization's work, and what drew you to them.
LifeMoves is dedicated to finding solutions to homelessness. We're the largest provider of interim housing and support services in the area: we provide intensive case management, life skills workshops, career services and housing assistance. We focus our work on empowering our clients with the tools and the support they need to return to long term stability, and self-sufficiency. It's about exiting people out of homelessness in a highly efficient, dignified and impactful way. Last year, LifeMoves returned over 2,000 people to stable housing.  The core of LifeMoves formula for success is the wrap-around, trauma-informed, customized supportive services that are clients need, including: behavioral health – therapy and case management, employment/job search, housing search, and children's services.
I fell in love with the mission of LifeMoves, and the people. When you've been working in the nonprofit space for over 25 years, you can be discerning about where you want to allocate your time and expertise. The more I got to know LifeMoves, the more I realized they were really answering a fundamental question of our time, and that I wanted to be part of that. What I loved about this organization is that, while they've had incredible success, they're always trying to set that next bar. I wanted to be a part of that relentless, insatiable pursuit of tackling homelessness once and for all.
The depth and breadth of the housing crisis in Silicon Valley is incredible. What are you seeing as the most pressing need in the community right now?
Prior to COVID, Silicon Valley was facing a huge unhoused crisis. What COVID did was amplify and accelerate the impact of that for more and more people. We've seen a rapid growth in encampments and vehicular homelessness. A third of our clients are also falling into homelessness for the first time. So needs are escalating for sure.
We know that permanent housing is critical, and ultimately that is where we want to move people to. But that often takes five years or more. So, interim housing is an opportunity to get people back on their feet, while they're waiting for permanent supportive and affordable housing. To me, that's also a pressing need in the community: building momentum around innovative solutions like interim housing, which have largely been ignored in the solutions that are needed to end homelessness in our communities.
You recently opened new sites in Half Moon Bay and Mountain View. Tell us more about your vision to grow Silicon Valley's capacity to house its unhoused.
We're a relatively large provider, as we already operate 26 sites across both San Mateo and Santa Clara County, representing a total of 1,333 beds, managed by nearly 400 employees.
We recently opened a site in Half Moon Bay, and it was incredible to see a community rally around our presence, and the partnership with the City, the County and so many partner nonprofits like Coastside Hope, Abundant Grace, Puente de la Costa Sur, El Centro de Libertad come to life. In this case, the county purchased a hotel and brought us in to renovate and open 50 doors to families, couples and individuals in the Half Moon Bay community. There has never been a permanent full-time shelter on the coast, so we were able to step in and fill that need.
We also recently opened a new type of site in Mountain View. We came up with a model around modular housing units which can be stood up within six months. It's a quick-build and cost efficient: we're able to deploy this solution for a total cost of $160,000 a door (including the land purchase) and can operate those units for $60 a night. This new site in Mountain View can serve 350 people a year as people transition out of these units, and into more permanent homes. If you think about the first five years of operation, that's over 1,700 people. And that's when you can start to think about scale. If we could get 10 of these sites up and running, we could serve close to 20,000 people over a five-year period, which sadly is the type of scale we need to address the problem.  We believe we're onto something because the model is replicable, scalable and flexible. Of course, this took strong public-private partnerships, but it presents tremendous potential. 
What are some of the main roadblocks you've identified in your work? 
A lot of the challenges we face are around land acquisition, and land development. It's also about having the Silicon Valley community embrace these types of solutions. And obviously getting the funding partners on board: cities, government, public-private partnerships and people that want to connect us to land owners so we can move this up.
The other challenge is around who owns the solution. While we want to be thought leaders, and drive innovation in this space, it's really going to take a collective, cross sector approach to solve this issue in our lifetime. We all have to own our part of that.
You came to this work from working in youth development. What surprised you as you entered this space, and what did you bring to this work from that previous experience?
The profile of the unhoused population that we work with was what most surprised me. There is often a lot of stigma and assumptions attached to people who are homeless: that they're somehow lazy, not doing the work, chronically addicted or have some other challenge. While we don't deny there are mental health issues, chronic challenges and systemic issues that contribute to that, many of the people we serve are quite the opposite. 37% of our client households are families or single adults, reporting being homeless for the first time. We're seeing a lot of vehicular homelessness, an aging homeless population. This really touches everyone.
I'm also continuously trying to wrap my head around understanding how, in the wealthiest regions in the wealthiest state of the wealthiest country on the face of the earth, we can see a rise in homelessness and not have a sustainable coordinated solution. It's unconscionable in a lot of ways.
One of the places I naturally lean in, from my experience in youth development, is working with marginalized communities, and looking at dismantling oppressive systems. We want to make sure that, while we're serving people in the short term, we also pay attention to the systems and policies that contribute to the homelessness crisis, and impact the clients we serve.
You are the first leader of color to run this organization. How does that influence your leadership?
Prior to me joining the organization, LifeMoves had already started a deep DEI&B (Diversity, Equity, Inclusion & Belonging) journey as an organization. That really stood out to me as I was getting to know the organization. There has been a lot of progress, and there is still more progress to be made of course. There are still some entrenched disparities driven by white privilege that continue to dominate the nonprofit sector, and our country. So, one of the things I am committed to is ensuring that we continue to address both the structures and experience of race, racism, and other issues, that we continuously re-examine our practices so that we're ensuring that we're not replicating or perpetuating historic inequities. And I want to make sure that we're setting targets to recruit and retain diverse staff, leaders and board members and measure all that with outcomes, and transparency.
Being a person of color in this work enables me to bring that social justice lens and lived experience to the table. I am no hero but it is not lost to me what I represent, how I show up for people working in this space, and what that means for other people of color who are looking for examples of what leadership can look like in people who look like them. I certainly don't take that lightly. 
What do you love most about Silicon Valley, and what would you most like to see change here?
What I like about Silicon Valley is the innovation, the appetite for testing and developing new ideas. Being able to push things forward almost at the speed of light. 
There is really no reason that this Valley would not be able to come up with really innovative solutions to address the homelessness crisis in our lifetime. We have the energy, the resources and the innovation. If we can put that all together, take some definite collective actions and make long term investments, this is achievable. Like I said, the homelessness crisis is owned by all of us, whether we acknowledge it out loud or not, and it will take all of us to solve it. 
What inspires you and gives you hope in your work in the community both where you've been, where you are and where you think it's going? 
What gives me hope is the work that we're doing, our client stories that tell me that we can offer solutions to homelessness. Our Mountain View site, the response that we got from the community in Half Moon Bay, and working with our partners are all incredibly inspiring. And, of course, the incredible passion that the entire staff and Board bring to the work at LifeMoves.  
My hope is that – in my lifetime – we can talk about homelessness and the unhoused in the past tense. We need the same level of focus and commitment to solving the homelessness crisis, as we brought to tackling this pandemic. It's possible.