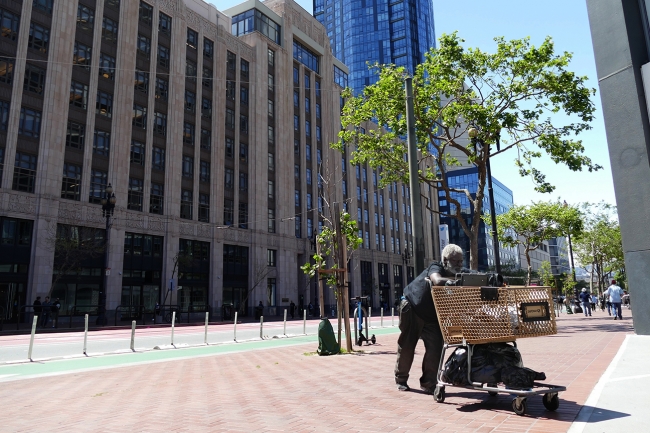 Silicon Valley's Megawealthy Join to Raise $100 Million for Local Charities
By Marc Gunther, Contributing writer for the Chronicle of Philanthropy. Article available here.
---
Silicon Valley is the epicenter of wealth inequality in America. It's home to an estimated 121,000 millionaires and to 11,000 people who are homeless. Some children go to elite private schools while in other neighborhoods, third graders struggle to read. Billion-dollar foundations in gleaming office buildings operate near charities that can barely afford to pay rent or retain staff.
Hoping to close those gaps, six foundations in Silicon Valley have formed Magnify Community, an effort that aims to inspire and equip local donors to invest in local charities on a much bigger scale.
"We're trying to create a new norm: If you live here, you give here," says Catherine Crystal Foster, chief executive of Magnify Community.
To that end, Magnify this month announced what it calls the Magnify Community Pledge, which calls on millionaires and billionaires to support charities that serve people living or working in Santa Clara and San Mateo counties. Magnify says that more than 25 individuals, families, and family foundations have signed the pledge, promising to deliver nearly $40 million in new money to local charities over the next three years. The goal is to generate $100 million in new giving.
Magnify has also compiled lists of vetted local nonprofits to make giving easier for Silicon Valley donors. "We see ourselves as an advocate, a catalyst, a convenor," Crystal Foster says.
 
Trusted Source of Information

Magnify was created by the David & Lucile Packard, Grove, Heising-Simons, Sand Hill, Sobrato Family Foundation, and Sunlight Giving foundations, all of which give substantially to local charities and want others to join. It's the direct outgrowth of a groundbreaking report funded by Packard called the "Giving Code," which, when it was published in 2016, put a spotlight on what it called the "widening gulf between the wealthy and the working poor — and between local nonprofits and philanthropists."
The "Giving Code" report generated wide media attention and lots of conversation about Silicon Valley philanthropy and spurred some donors to give closer to home, according to Irene Wong, director of local grant making at Packard. Subsequently, Packard and the Heising-Simons Foundation made "experimentation and learning grants" to 20 local nonprofits to support projects to develop connections with local philanthropists.
Last year, the six foundations now funding Magnify asked Alexa Cortés Culwell and Heather McLeod Grant, the co-authors of the "Giving Code" report, to issue a request for proposals from individuals or organizations with ideas to promote local giving in Silicon Valley. The grant makers then gave just under a $1 million to Crystal Foster, a former foundation executive and strategy consultant, and her partner, Kathy Jackson, former chief executive of Second Harvest of Silicon Valley, a food bank, to form Magnify and operate it for the next 18 months. Housed at the Packard Foundation, Magnify is envisioned as a short-term project, to last no more than three to five years. It won't seek fees from donors or charities.
While promoting the pledge, Magnify has drawn upon the work of the six foundations to develop lists of effective charities. "Curated information from a trusted source is what everyone is seeking," says Crystal Foster.
So far, Magnify has published four lists of charities: those that provide safety-net services such as food and emergency shelter, those working on homelessness and housing, social justice groups that provide legal services or engage in community organizing, and data-driven nonprofits to appeal to donors who favor organizations that use the latest technology. Fidelity Charitable, a commercial provider of donor-advised funds, published the give lists on its website and distributed them to holders of 3,000 donor-advised fund holders in Silicon Valley.
Providing donors with "easy access to the grants lists of local, highly credible foundations is … a simple and innovative idea with huge potential for impact," says Cortés Culwell.
 
Skirting a Beleaguered Fund

The creation of Magnify — and in particular its work with Fidelity Charitable — can be seen as an implicit rebuke to the Silicon Valley Community Foundation, which, under ordinary circumstances, would be a logical choice to lead a campaign to promote local giving.
But Emmett Carson, the community foundation's former chief executive, was widely perceived to be insufficiently committed to local needs during his 11-year tenure. Carson resigned last year after a board investigation substantiated what former and current employees described as the foundation's toxic workplace culture.
Magnify arose during the leadership vacuum there, which has been filled with the hiring of Nicole Taylor, a well-liked foundation executive, as its new CEO. "I look forward to a deepening relationship between the two that will ultimately benefit our communities," Wong says.
Taylor says she supports the work of Magnify to promote local giving. "It's what we should be doing," she says.
Marc Gunther is a veteran journalist, speaker, and writer who reports on foundations, nonprofits, and global development and has a blog called Nonprofit Chronicles. He has written Chronicle of Philanthropy articles on the 2018 Silicon Valley Community Foundation scandal and on philanthropic support of psychedelics in mental-health research, among other subjects.