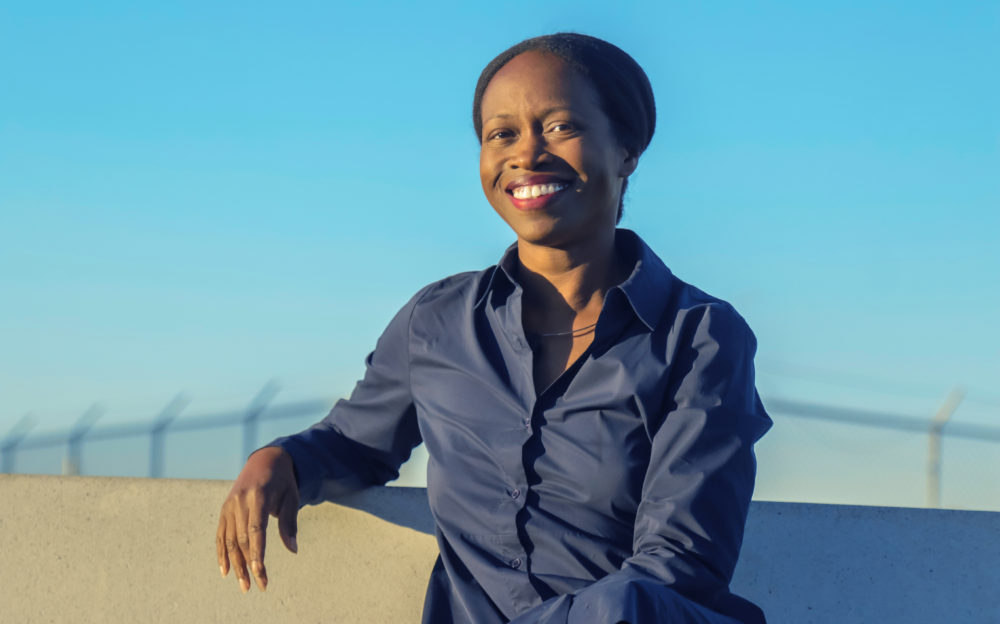 In conversation with Nadine Rambeau - EPACENTER
We invite you to be inspired by our Leader Voices series. Here, Nadine Rambeau, Executive Director of EPACENTER, a creative youth development organization conceived and developed by the young people of East Palo Alto (EPA), shares how they have been adapting to the current context, seizing opportunities to deepen their mission.
---
EPACENTER increases opportunities for EPA youth to amplify their talent, realize their potential, and impact their world through art and design. EPACENTER began offering free, culturally-responsive instruction in 2015 in the digital, visual, literary, and performing arts, and is expecting to open a state-of-the-art facility in EPA in 2021.
From its inception, EPACENTER was conceived and developed by the community. How is community input guiding you in these unprecedented times? 
At the beginning of the summer, we went back to community members and asked them how we could best meet their needs. They told us they wanted us to help them turn into "superheroes." There are so many things coming at them at the same time that they have to fight off, but they have the patience and determination to emerge even stronger. So we're determined to help them find that strength and use it.
The first area they mentioned was mental health. With the daily onslaught of imagery, rhetoric around racial inequity, it really takes a toll. Even kids as young as 10 are talking about this with us. It's a lot to process for them. So we're thinking of ways we can help them, for example through art therapy. 
The second thing they mentioned was economic opportunities. These young people want to be able to live here, provide for their families, and keep their families safe. California's creative economy is a formidable engine, but doesn't always provide equitable opportunities for the community members we serve. We need to find ways to operationalize pathways for young people of EPA to enter those creativity-driven industries. A lot of organizations here provide after school programs to kids. How can we also train them in a skillset that will be helpful to them, find internships, apprenticeships, mentorships, get them to job fairs, help them tell their stories, put together their portfolio and move to the next stage?
Finally, the last piece they mentioned was helping them navigate the ecosystem of providers. There are so many organizations working in EPA and sometimes in very siloed ways. The community is asking us to help bring them together, have one place where they can find them all, and have the opportunity to be supported holistically rather than having to figure it out on their own. 
We're planning on continuing to engage the community throughout the fall to gather more input so that when we open, we do it really right, and have this fantastic building, with a new reinvigorated mission.
EPACENTER was offering free in-person classes to close to 400 students before COVID-19 hit. How have you been adapting your programming to meet current needs and stay connected to the youth?
As many others have, we moved all our programming online during the summer, and are planning on continuing to provide those online classes throughout the fall. This brings its own set of challenges of course--it's like trying to understand a whole new business! But we learned a lot, for example, how students tend to drop off after registration because for some it's just too many hours in front of screens. And how for others there is a need for even more services, like pre-K children we hadn't anticipated serving.
But this challenge shows just how essential EPACENTER is to the families we serve. It's important to remember that East Palo Alto sits at the center of world-renowned companies and groundbreaking ideas, yet its community members haven't always enjoyed access to the tools, training and opportunities that meet their needs to learn and engage in this creative marketplace – until EPACENTER. This is even more true as members of our community lose jobs and students struggle with distance learning.
EPACENTER is here to ensure we grow from this. Creativity is ever more important in a pandemic, when youth most need space to take their minds off the news--the aforementioned daily onslaught of images-- and focus on expressing themselves--and building their careers for the future. As EPACENTER urges and encourages creativity, children will grow into adults who actively participate in their communities. Their expression will connect people and help us learn from each other. New ideas and relationships will yield the connections that maintain our region's reputation for insight and invention--ensuring we emerge from this pandemic even stronger.
So we are adapting, listening to what the community wants and needs, and finding solutions. With online programming, we know there is an opportunity to serve many more people who might be in need right now across the Peninsula, and we seek to expand our capacity to do so to an even wider degree.
What does COVID mean for your operating plan and business model?
We've also had to build a new operational plan taking into consideration this new context. So while the free classes offered by professional artists remain at the core of what we do, we've had to reimagine our future revenue streams and figure out how to do more with less. For example, event rentals, cafe sales, and concerts were all going to be sources of revenue for programming. So we're rethinking what we can do with our new building opening next year, a tremendous asset, while keeping true to what we promised the community. It's about taking a pause, and reimagining how to build something even better than we had planned.
How are you thinking about partnerships to address some of these needs?
Partnerships are key, of course! EPACENTER can be an epicenter that brings some of these services together. We're working with the Children's Health Council to provide art therapy, hopefully soon with JobTrain on the workforce development part. Our goal is to accelerate the work organizations are doing so well in the community and take it to the next level. We're also exploring the idea of being a space where different arts organizations, not just EPACENTER, can provide programming. We want to bring partners along and work in collaboration to serve the maximum number of children and youth in the area. We're also hoping we can bring more funders along who buy into that vision, and help us bring it to life.
You were planning on opening a state-of-the-art facility at the end of the year. How are you thinking of what a "launch" could look like in the year to come?
The construction has been slightly delayed but we're definitely hoping to launch by next spring. The building is in its final stages of completion, and once it's fully built out, it will be perfect for doing programming outdoors. There is a lot of land, the hallways are open air, so the building will be fantastic for that. But we want to see how all of this is evolving from the perspective of those struggling the most in this pandemic. This community is struggling, but resilient. We have a lot of essential workers, people living in multi-generational households, so we're taking this very seriously.
Any thoughts on rebuilding and reimagining you'd like to share with the broader community?
This process we're going through now is very intentional, because it will help prepare us for the next major crisis. We're building resilience so we'll be prepared for the next crisis, whether in a year or five years, and can pivot and move forward just as quickly.
For those considering investment in East Palo Alto, commitment to address emergency needs right now are important, but this community also needs long-term investment to overcome the structural challenges and help our community emerge even stronger. At EPACENTER we keep a laser focus on rebuilding better and stronger communities, especially for those struggling the most, and we welcome partners on that journey.
---
Photo courtesy of Nadine Rambeau.
To support EPACENTER's work, you can donate here.