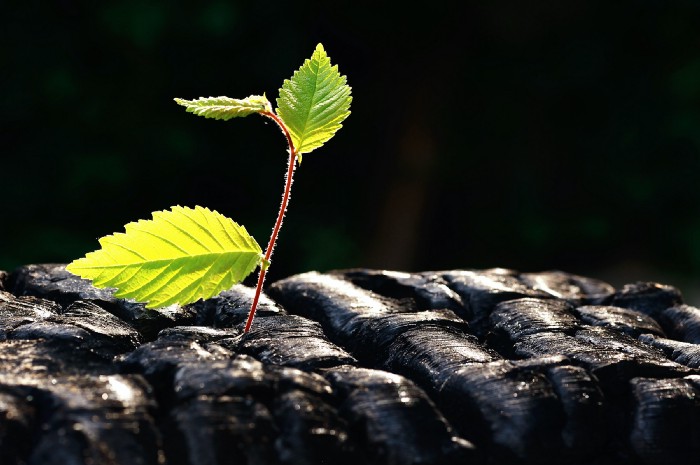 In Loss, an Invitation to Act with Love and Purpose
By Catherine Crystal Foster, CEO & Co-founder of Magnify Community.
Originally published on Medium.
---
There is something about the intensity and scope of the challenges we're facing that lends itself to metaphor. Early on, the metaphors were darkly humorous, featuring toilet paper hoarders and bad haircuts. But after months of crisis, the metaphors are more somber, and touch a deeper chord.
And our metaphors are becoming real. California's wildfires have created a bleak mosaic, visible from above: they skip as they burn, leaving some places unscathed and others burned to cinders. Our people, our neighbors, experience the virus the same way. Some of us are singed, some healthy, others returned to ash. Many of us feel we are cracking under compounding pressures. Shockingly, our teeth are now literally cracking at an alarming rate, as we gnash them in anxiety. And, of course, we face plagues eerily reminiscent of the Bible, and events coinciding bizarrely with religious holy days of reckoning and renewal.
With the end of warmer days and the march of time into fall, the metaphor of ending, before the cold of winter and renewal of spring, is vividly present. Symbolic imagery of chapters' end is in our face at every turn: Homes and forests no longer there. The daily dashboard of virus deaths, each representing an immeasurable life gone from this world. Vacant storefronts that housed the businesses that anchored our communities. Portraits of Black men and women whose lives were taken by the police.
But as we recite the eulogies for our losses, and feel the pain of our mourning, there are those to honor for the actions they took during their lives and continue to inspire after they've left us:
Bill Gates, Sr., who fostered the guiding values behind his son's massive charitable foundation, drew his final breath, and in his passing reminded others what legacy they can create.
John Lewis had a towering presence in life, and on his death left, through his actions and posthumous message, a challenge to all to "answer the highest calling of your heart and stand up for what you truly believe."
The valiant and principled trailblazer Ruth Bader Ginsberg passed from this life and sparked an outpouring of solidarity, recognizing not only the brilliance with which she opened opportunities for others but the genuine way she forged friendships with those who differed from her.
Close to home, philanthropist Carmen Castellano, who won the lottery and used the winnings to start a charitable foundation to support Latino-serving organizations in Silicon Valley, departed this world but left behind a ringing call to action to support Latino nonprofits.
And then there are endings to celebrate simply for the generosity they represent. While still very much alive at age 89, the billionaire businessman and philanthropist Chuck Feeney marked the end of his quest to give all his money away in his lifetime, having quietly gifted a total of more than $8 billion to make the world a better place.
As the weight of this era seems heavier each day, can we take stock of who and what we have lost and, in place of despair, find greater inspiration for action, strength, and purpose? Can we honor all that has ended, with new beginnings and even deeper dedication to all that remains true and good? Can we turn symbols into roadmaps for the specific actions we can take today?
In a deeply stirring "Obituary for the Land," written after one of our recent fires, Terry Tempest Williams wrote, "I will mark my heart with an "X" made of ash that says, the power to restore life resides here. The future of our species will be decided here. Not by facts but by love and loss. Hand on my heart, I pledge of allegiance to the only home I will ever know."
It is a tremendous gift to be able to do good in the world when there is so much suffering and devastation all around us. As we grieve what has been lost, let us also act on the opportunity endings create: a chance to begin again and help build a better future for everyone. Let us pledge our allegiance to this remarkable place we call home and reaffirm our own commitment to embrace this moment in all its pain and possibility. The future will be decided here in the hearts of all of us. Let us act with powerful love and purpose in this time of greatest need as we write the next chapter.