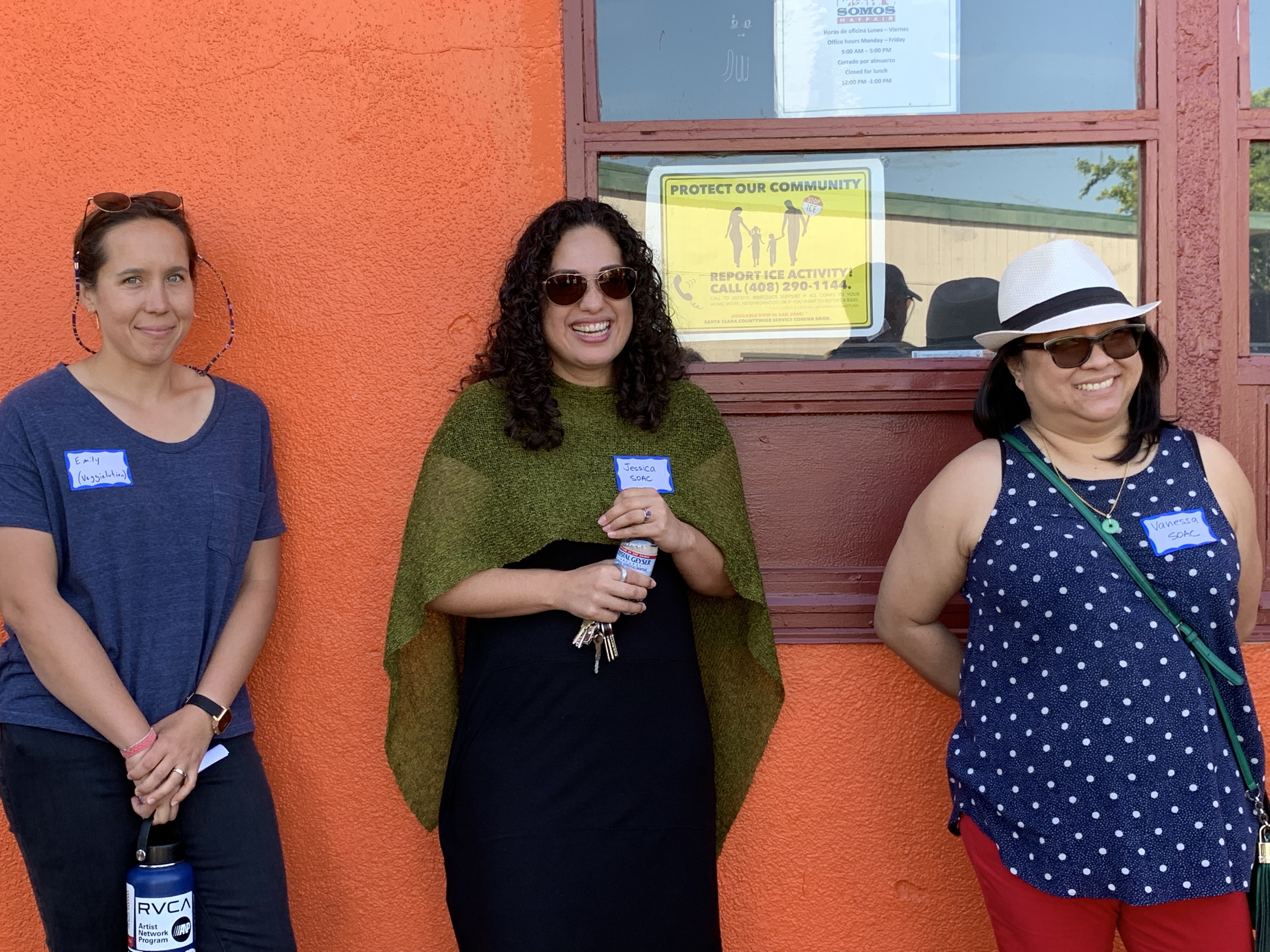 A Call to Get Proximate - By Lisa Van Dusen
Original contribution by Lisa Van Dusen, Chief Relationship Officer at Silicon Valley Social Venture Fund - SV2. 
---
Silicon Valley — arguably the innovation capital of the world — is also becoming the income inequality capital of our nation. Many in our community find this deeply troubling, and want to be part of the solution. As a 30-year resident of Palo Alto, I share these concerns. But we can't read our way into change. And, while Silicon Valley—including philanthropists— is obsessed with data, data alone won't transform our communities so that everyone can thrive.  We need immersive experiences.  
As Bryan Stevenson — the lawyer, social justice activist, and author — forcefully contends, we can't solve problems at a distance. He popularized the phrase "Get Proximate" before founding the National Memorial for Peace and Justice  and The Legacy Museum to connect people directly to America's history of lynching and racism. Stevenson believes that "if you are willing to get closer to people who are suffering, you will find the power to change the world."
A year and a half ago, I met Stevenson. I came away even more convinced that getting proximate is not optional for advancing social change. Since then, I've become equally convinced that it is not always clear how best to get proximate. And I've learned that I can't always do it on my own. In fact, for people with privilege, getting proximate usually requires collaborating with local champions.  We need trusted guides to gain a deeper understanding of the assets and needs of the individuals, institutions, and communities we strive to serve. Fortunately, many leaders — both official and unofficial — are committed to being those guides. 
During the last year, our team at Silicon Valley Social Venture Fund (SV2) has embarked on a journey to "Get Proximate."  We are humbly seeking ways to connect with people throughout Silicon Valley that lack the same advantages that we have in our day-to-day lives.  SV2, as a community of individuals and families collaborating to become more effective givers, co-created three opportunities to get closer to the people and communities we serve.  Following each experience, we reflected on how our perceptions had changed, and stories emerged reflecting our internal shifts. 
First, members of SV2 spent an afternoon and evening at LifeMoves | Maple Street in Redwood City, the largest emergency and transitional housing facility for single adults in San Mateo County. By sharing a meal with — rather than serving a meal to — clients at Maple Street, we discovered many shared experiences.  Our sameness rather than our differences were reinforced. Following our meal and our reflection, our perceptions shifted. Some SV2 members participated in the County's early morning effort to count the unhoused.  Others contributed funds, and some of us delivered much needed new bedding. We shared what surprised and moved us about our experiences. Some now stop to connect with those on the street whom we'd previously walked past.
In our second experience, Mayfair community members guided us on a walk through their East San Jose neighborhood. As we strolled past well-kept homes with bountiful fruit trees and colorful gardens, residents shared that there are routinely as many as five families living in each 3-bedroom house. That's one family per room, not bedroom. And that includes the garage. You can't unsee that. 
Our Mayfair guides described how they are collaborating to change the narrative of their vibrant and challenged community. They're proud of their legacy of community organizing.  Mayfair has become a launch pad for immigrants, a community unwaveringly committed to education, and a home to many family-owned businesses. SV2 members gathered with Mayfair residents for conversation over lunch.  One participant remarked that Mayfair is a real community — far stronger than many others in Silicon Valley.  I could see that moment of realization on his face. The Si Se Puede! Collective called on us to use our voices, not just our financial resources, to tell this story and to advocate for what's needed, so that Mayfair and its residents can thrive.
In our third experience, we learned that you can't always get proximate with the people you're trying to meet.  For example, you can't interact directly with foster youth, except under very particular circumstances. Child Advocates of Silicon Valley was recently awarded a grant to design experiences that would help potential donors and volunteers "get proximate" without meeting foster youth in person.  We joined Child Advocates for an immersive experience, in part to give feedback on their new prototypes.
A facilitated "game" called Fosterland (photo above) pulled us into the complex web of the dependency court ecosystem.  A roll of the dice determined "your" fate: your 7th move within two years; changing schools once again; or being assigned a Court-Appointed Special Advocate (CASA) — a lucky roll.  The varied consequences of each roll created the springboard for an enlightening discussion with a Child Advocates facilitator.
A 9-minute virtual reality experience surrounded you with the empty refrigerator of your abusive parents, tearful separation from your sibling, meeting your controlling foster parents, and finally connecting with your CASA. (Photo above)
Back in the non-virtual world, we learned even more.  Several Mentor Parents from the Dependency Advocacy Center shared their stories, heart-wrenching and courageous. All became parents while addicted, all lost custody of their children, all eventually reunited with their children, and all are now mentoring others to overcome obstacles to reuniting their families. (Photo above) 
Through these immersive experiences at Child Advocates, even an experienced leader in foster youth deepened his personal understanding of the motivations and challenges of both parents and children. His lens moved from "the structural to the personal" as he witnessed the "fierce unwillingness" of parents who had suffered their own childhood trauma to let go of their children.
If you agree with Bryan Stevenson that by "get[ting] closer to people who are suffering...you will find the power to change the world," here are a few ways you can get proximate: 
Volunteer. Read to preschoolers in an under-resourced community. Help with census outreach through community-based organizations. 

Use public transit. Interact with others when you do.

Attend a performance or other event in an under-resourced community. Share what delighted you. Tell others what you have learned, especially the positive or the unexpected.

Use your voice and privilege to advocate. Speak out for policies that address systemic injustice.

Meet organizations and communities where they are — literally and figuratively. Engage community members as experts concerning their own issues, needs and opportunities.  Ask community leaders what they need and want. Don't make assumptions. Give community-based organizations unrestricted, multi-year funding. 

Listen. 
Not everyone embraces the "get proximate" approach. Some push back: "That's 'poverty porn'" or "That's too hard." I disagree.  No, it's not voyeuristic to get proximate if you are genuinely seeking to understand and learn from the people you are trying to support.  Yes, it can be challenging and uncomfortable. It is hard to figure out how to get up close in a way that is authentic, reciprocal, and that builds real connection.  Nonetheless, we can't not try.  
Let's leave our comfort zones and get proximate. In the midst of trying, connections form. The tiniest bit of understanding arrives, and empathy moves in and grabs us. Then we want to be part of meaningful solutions in a whole new way — by working together.