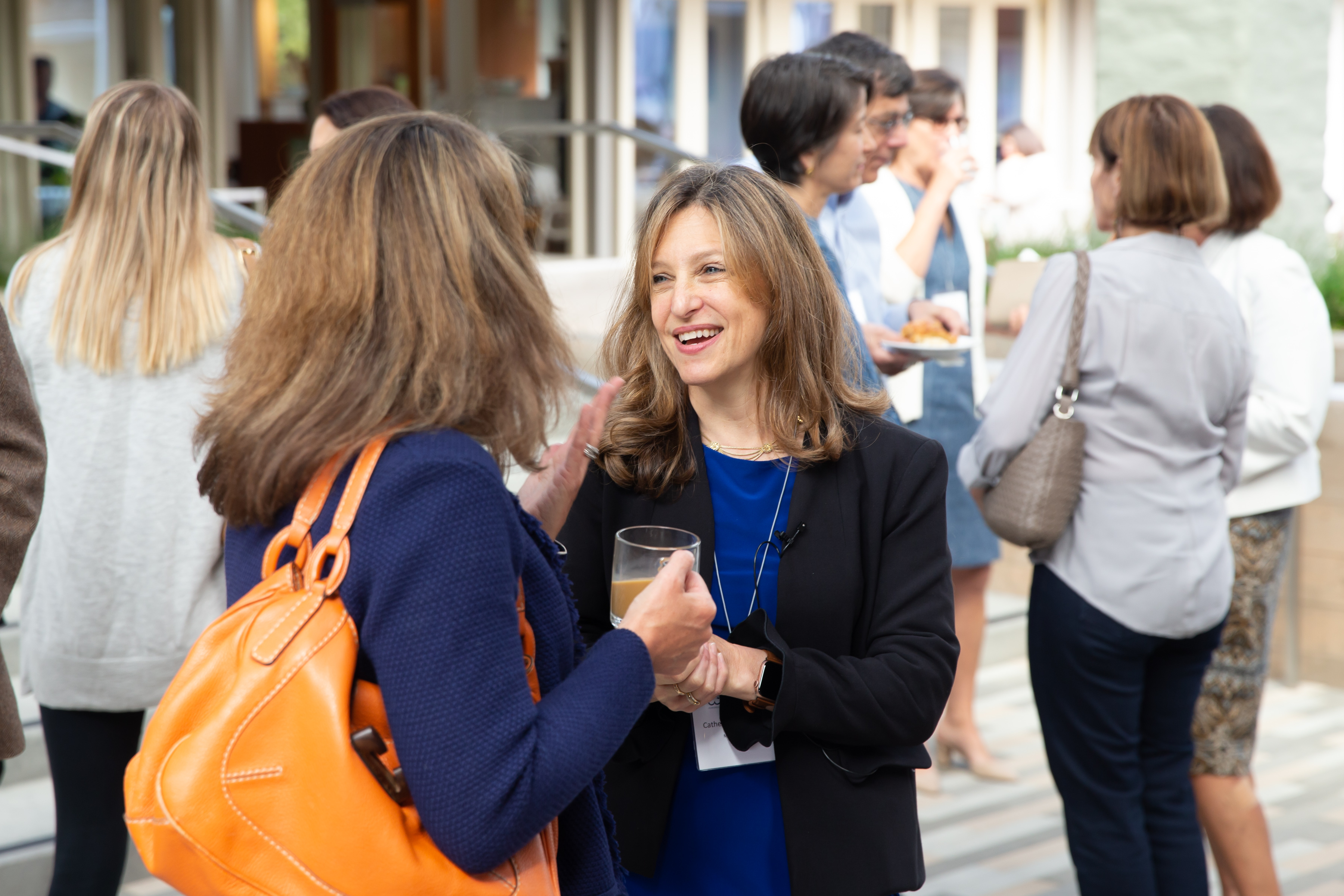 Connectivity In Real Life
By Catherine Crystal Foster, CEO Magnify Community.
---
In Silicon Valley, we're accustomed to superlatives: the newest, the biggest, the most disruptive, the youngest … the list goes on. There's also much talk of "connectedness," which most often means always-on technology and virtual social networks. Last week, on Sand Hill Road — Silicon Valley's financial epicenter — we experienced a moment featuring a superlative heard less often here, and a refreshingly different kind of connectedness. A room full of major donors, nonprofit leaders, corporate executives, foundation CEOs, and wealth advisors spent the morning talking to each other and listening to some of the most generous people and institutions in our community.
The occasion was an event Magnify Community hosted with CCS Fundraising, timed with the release of the Giving USA 2019 report, an annual deep-dive analysis of philanthropic giving in the US. CCS highlighted key findings from the report. They also described Silicon Valley's exceptionalism, which extends to household wealth and to the way people give here. This is home to 30 billionaires on the Forbes 400, and yet remarkably little philanthropy here goes to nonprofits serving the local community.
But after the presentation of those findings, we heard a ringing endorsement of local giving from John Goldman, Co-Founder and President of the John & Marcia Goldman Foundation, Rick Williams, CEO of the Sobrato Family Foundation, and Shannon Hunt-Scott, Co-Founder and President of The Scott Foundation. Each represents a different kind of family philanthropy, resulting from different types of philanthropic journeys: The Goldmans come from a storied San Francisco extended family of philanthropists dating back to the 1800s. The Sobrato family literally built Silicon Valley, and created a foundation at the height of the 1990s tech boom. The Scotts' foundation, derived from the tech sector, is the youngest among them. Yet all three share a fierce belief in the importance of giving in their community and listening humbly to local nonprofit leaders to understand local needs.
"170 years ago there was a gold rush here," Goldman said. "They brought with them their norms and values. We're now at 'Gold Rush 2.0'. But with mobility and wealth generation, we no longer have a strong 'rooting.'" The challenge he put to the gathering was how to change giving norms in Silicon Valley. Williams agreed. "The challenge in Silicon Valley is that there literally is no Silicon Valley. We need to create a sense of place here, to come together as a community. There are enough resources here. If we chose to norm and brand local giving, we could have the best schools, no one hungry," and make Silicon Valley a better place for all.
So what is holding us back? It's lack of connection, understanding about local needs, and knowledge of the leaders doing powerful work in the community. It's also fear about not "doing giving" right. But as Hunt-Scott told the crowd, reflecting on her own start in philanthropy,"'Perfection is the enemy of good' …and at some point, I just decided to jump in." There are models and mentors to guide the way, and much to learn by listening. It starts with connectivity of the "in real life" variety. Jump in — and join us at Magnify Community to learn more.
Original post on Medium.