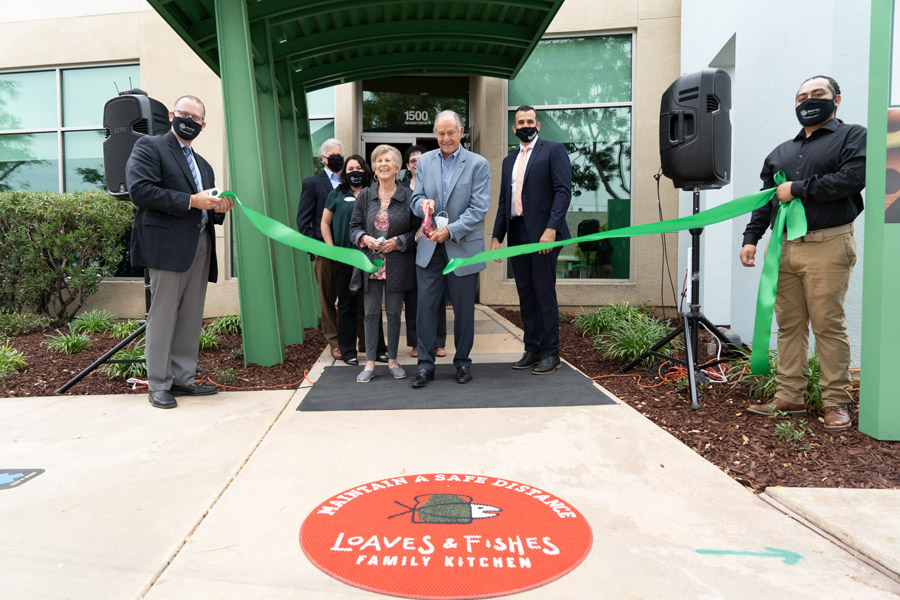 In conversation with Loaves & Fishes
In the Bay Area, hunger has risen to heights that may never recede to pre-pandemic levels. We spoke with Gisela Bushey, CEO of Loaves & Fishes, about her organization's work to provide quality, nutritious meals to any and all community members in need.
Photo caption: Magnify Pledger John A. Sobrato at the ribbon cutting of Loaves & Fishes' new facility in San Jose, which he helped them acquire. Loaves and Fishes is raising the remaining $3.1 million to turn this facility into a commercial kitchen that will enable them to expand their long-term capacity. It will be shared with the community as a culinary institute to provide job training for clients.
---
What does your organization do and who do you help? 
Loaves & Fishes is the largest prepared meal service provider in the Bay Area, serving hundreds of thousands of hungry and homeless families, children, seniors, and veterans throughout Santa Clara and San Mateo counties. Our services are provided free of charge, and all are welcome—no questions asked. 
As a partner agency, Second Harvest of Silicon Valley provides in-kind food donations (including meats, seasonal produce, dairy and more) that Loaves & Fishes cooks, serves, and delivers to local families in need who do not have access to refrigeration or cooking facilities.
What's a recent accomplishment or success of your organization? 
Since the initial shelter-in-place orders were issued last March, requests for our services have nearly tripled; we've gone from serving 2,500 prepared meals to over 7,000 meals per day.  Our unique ability to provide daily prepared meals has become especially important as more than 1 in 4 Bay Area residents now go to bed hungry every night, not knowing where they will find their next meal.  
For $2.50, Loaves & Fishes can provide a meal that meets 100% of a client's nutritional needs for that day — and that we'd be happy to feed to our own families in terms of quality and taste. For the majority of the people we serve, the meal we provide is the only one they're guaranteed to get. Just $10 can keep a family from going to bed hungry tonight.
What's the most pressing need you're seeing in your day-to-day work in the community?
Meeting the ever-increasing need for our services.  By June 2021, we expect to be providing 10,000 meals a day, quadrupling our capacity from a year ago. For Loaves & Fishes, these numbers are our new baseline, and while we hope they will eventually level off, we will not be going back to pre-COVID levels...ever.  The damage is done. When the dust settles, we'll be left with a problem four times bigger than it was a year ago.
We currently have an additional 35 locations in Santa Clara County that are requesting our services. A $200,000 grant would allow us to expand our service delivery network to include all of the organizations on our waiting list. How long can people who are hungry wait?

What's something that people who are new to your work are surprised to learn?
People are continually surprised at who actually makes up the hungry and homeless populations in the Bay Area. They are families, children, seniors, veterans and the disabled.  They are your neighbors who have lost their jobs and their homes. They are seniors on fixed incomes who simply cannot make ends meet. They are essential service workers, who even though they have continued to work throughout this pandemic to ensure that the rest of us have the food, supplies, and necessities we all need—because they are making on average $35,000 a year, they are forced to make impossible decisions every day: Do I pay the rent, or buy food for the family? Do I fill that prescription, or do I feed myself and my children?

What's the most memorable feedback you've received from a client?
"Without Loaves & Fishes, my family would go hungry. You have literally saved our lives."
What do you love most about Silicon Valley? And what would you most like to see change?
We have a community filled with people from every sector—public, private, government and non-profit—whose first instinct is to ask "what can we do to help those who need us most?"
If we could only harness that generous spirit with greater consistency, understanding that, in Silicon Valley, hunger and homelessness were incredibly significant issues before COVID, and will remain even more so after we get our arms around this pandemic.

What inspires you or gives you hope in your work in the community?
Our staff, volunteers, and donors inspire me. Every day, our team shows up as early as 4 a.m. to ensure we get our meals out to our neighbors who need them the most, and our blessed volunteers who continue to work with us in spite of — and because of — the pandemic, knowing that we couldn't possibly do our work without them. And our incredibly generous individual, foundation, and corporate benefactors, who have stepped up to provide the financial resources to allow us to expand our services at a time when our community has needed us most.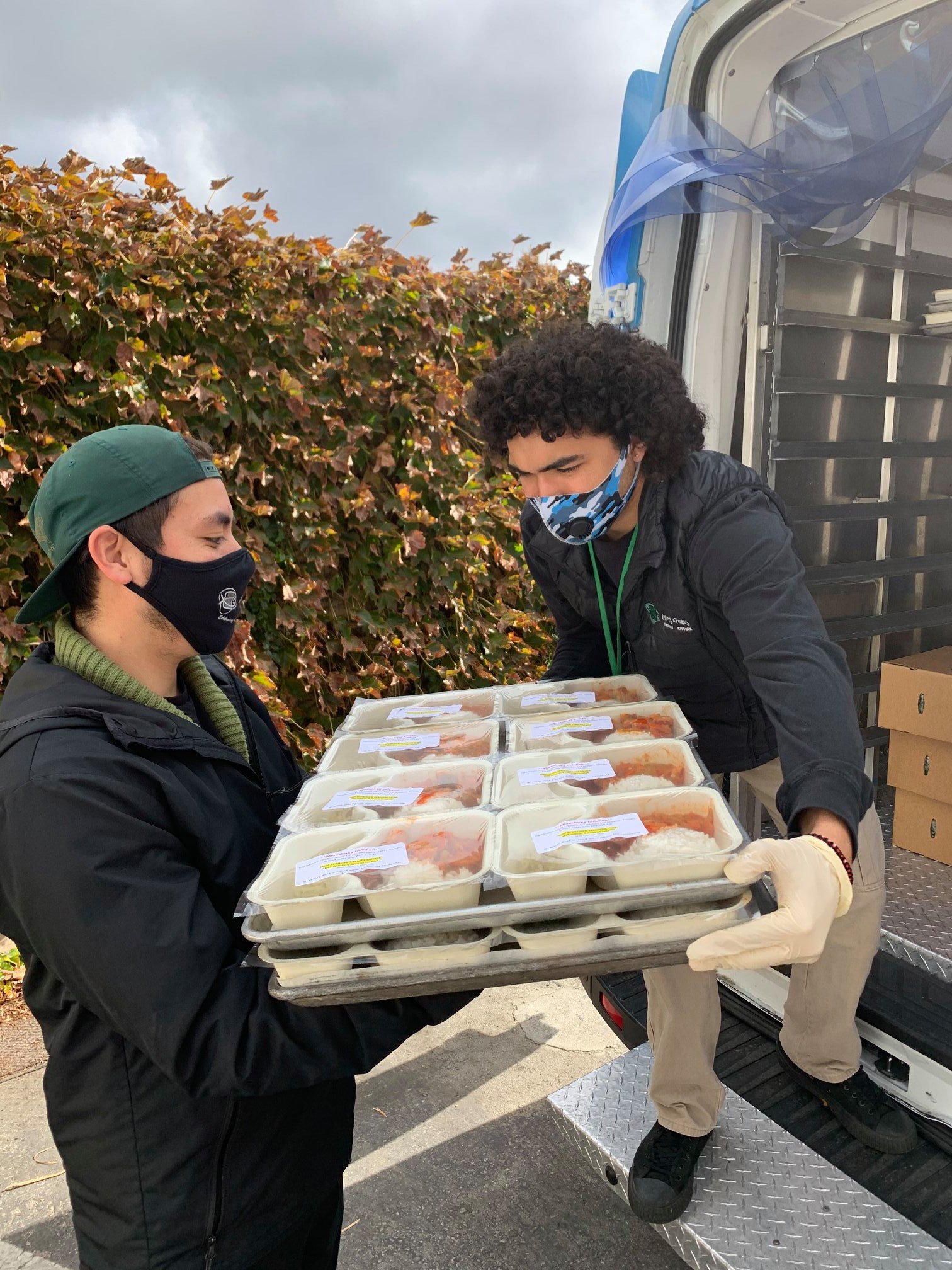 Photo caption: Driver Ambassadors Elias Granados [right] and Jonathan Vallejo [left] deliver hot "to-go" meals to families, children, seniors and veterans throughout Santa Clara and San Mateo counties.  Loaves & Fishes provides over 7,000 hot, prepared meals per day.