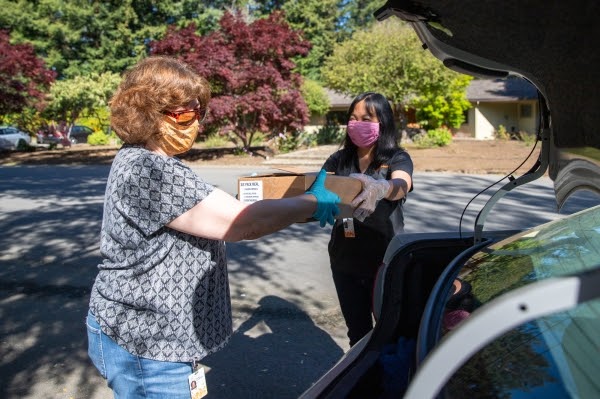 In conversation with Michele Lew, The Health Trust
Founded 25 years ago as a nonprofit operating foundation—a funder and a service provider—the Health Trust builds health equity and reduces racial health disparities in Silicon Valley. They focus on improving health through food, making chronic diseases more preventable and manageable, and prioritizing health in housing. Magnify Community sat down with Michele Lew, the Health Trust's CEO, to discuss health, equity, and a vision for a better Silicon Valley. 
---
Tell us about the Health Trust's triple identity as a funder, provider, and advocate.
As a funder, we take a broad definition of health—not just health care, but also social determinants of health. We focus on policy, systems, and practice change; changes that will endure long after our grant period concludes. During this pandemic, our Board unanimously voted to increase our payout by 50% in 2020, and we made a lot of general operating grants, because our grantees told us that what they needed most was money that's flexible.  
As a provider, we provide medical and non-medical case management, care coordination, and food assistance for people living with HIV/AIDS and people who have been chronically homeless. Our Meals on Wheels program provides not only nutritious meals to homebound seniors and people with disabilities; our drivers are also trained to conduct wellness checks, greeting and checking in with the clients, and calling for emergency help if anything is amiss. 
As an advocate, we champion policy changes to address health inequities. We provided staff support for a Health and Racial Equity Task Force that launched in the spring of 2020, providing a venue to develop policies and programs to support health and justice for everyone. Some of our "wins" have included increased quarantine support for residents in need, expanded use of community health workers, and stronger coordination among community-based organizations and local government on COVID-19 testing and vaccine distribution.
How are you balancing immediate relief with rearchitecting for the future?
The immediate need is undeniable: we're seeing food insecurity in every city in this region, and demand for Meals on Wheels is still triple what it was pre-pandemic. When shelter-in-place was first announced last March, our phones started ringing off the hook. We made a commitment that if anyone who qualified called us needing a meal, we would deliver a healthy, nutritious meal to them. Since then, we've expanded our Meals on Wheels program from 100,000 meals in our previous fiscal year to a projected 330,000 meals this year. 
As the pandemic continues into 2021, we don't foresee a decline in demand for home-delivered meals, and we're strategizing about how we can best serve our community — both tomorrow and five years from now. As we look at the neighborhoods and populations hardest hit by COVID, where there's the highest demand for food, we cannot ignore racial disparities here in our own backyard. 
Our dream is to reduce food insecurity and social isolation for all homebound older adults in Santa Clara County and advance the concept of "food as medicine." For example, in a diverse county like ours, we hope to provide an array of different healthy ethnic meals from different vendors, allowing clients more choice in what they eat. We're considering raising an $11 million Meals on Wheels endowment to ensure we can provide food for the most vulnerable in our community. 
How are you thinking about health and racial equity?
We're always striving to listen to the people on the ground, and our strategies are based on what they tell us. We're proud that across our staff and board, the majority are people of color who both live and work in Silicon Valley. Many of our staff have lived experience—they grew up in poverty, and/or have multiple chronic conditions (and thus understand the complex issues faced by our clients)—that informs our work and strategic direction.
COVID-19 is forcing everyone to think about health AND racial equity together. In Santa Clara County, the LatinX and African-American communities, as well as some Asian subgroups, have suffered a disproportionate share of coronavirus cases and deaths. As a funder, we've allocated more grantmaking dollars to support the hardest-hit communities. As a provider, we're looking at how to diversify our food options to meet the needs of our increasingly diverse clientele. As an advocate, we've been championing culturally appropriate messaging and strategies to encourage residents to get tested for COVID and now to get vaccinated. 
Through the Health and Racial Equity Task Force, we partnered with sister organizations and elected officials to present 30 recommendations for addressing COVID-19 more equitably. The recommendations have helped move the needle on COVID response locally.
Is there a role for donors to play in the equitable distribution of the COVID-19 vaccine?  
Donors can help by funding messaging strategies and messengers. There's a troubling amount of misinformation out there about the vaccine, particularly myths around the dangers of the vaccine for immigrant populations. To combat vaccine hesitancy, we'd love to partner with more local donors to ensure that grassroots community-based organizations—especially in the zip codes hardest hit by COVID-19—have a cadre of trained, trusted community health workers who can help educate residents about the realities of COVID-19 vaccines and the importance of getting vaccinated.
What are you optimistic about?
I lie awake at night thinking of hours-long lines of people waiting for food, here in Silicon Valley, and think: there must be a better way to get food to people who are hungry! 
If there's a silver lining to the pandemic, it's that we have an opportunity to rethink our entire food distribution system. DoorDash [and these other food delivery apps] have an incredible system for deploying food to hungry people efficiently. We could take elements of that technology and efficiency, and balance it with the human compassion and interaction that nonprofit providers bring. You can't underestimate the importance of a case manager or Meals on Wheels driver who can check in on a client, sing a song with him, and keep him from slipping into depression; we can't lose that piece. It's an exciting innovation opportunity for the for-profit and non-profit sectors to come together with local governments to reinvent food distribution.
Photo caption: Michele Lew with Maria Goldstein, a Meals on Wheels staff driver from The Health Trust. Photo by Magali Gauthier.