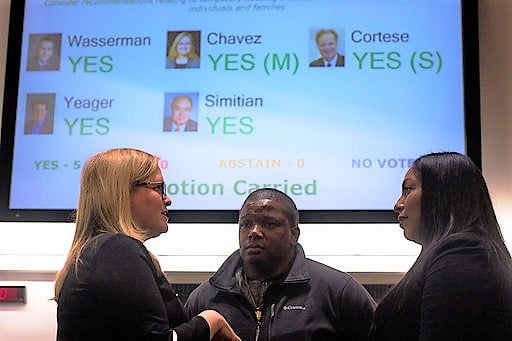 We need to 'step up' to support our foster youth - By John Hogan
Contribution from John Hogan. As originally published in the San Jose Spotlight.
Photo: Supervisor Cindy Chavez speaks with Dontae Lartigue and Christina Anaya during a recess at a Dec. 17 Board of Supervisors meeting. Photo by Kyle Martin.
---
It is time we step up for our young people in foster care. We can no longer stand for small ideas and hope for incremental progress. It isn't working, and our youth is falling farther and farther behind their non-foster peers.
In true Silicon Valley fashion, we need to set big goals and shoot for outcomes that will be disruptive, not incremental.  We must become the first community in the country to insist that young people from foster care will achieve educational, employment and income outcomes that are on par with the general population.
"They are an upper-middle class parent and they should act as such," Dontae Lartigue, CEO of Razing the Bar, a San Jose nonprofit that matches foster youth with housing and mentorship, told the Chronicle of Social Change. "It's their responsibility because they uprooted us in the first place. They took us from our homes, they assumed responsibility for who we are and what we're going to be."
Who is the "they" Dontae is referring to? Well, it's the Santa Clara County government. And, truth be told, it's all of us.  We empower the government to remove children from their homes. It isn't "they" who are responsible for the outcomes, it is "we."
Few would dispute the notion that we want our foster youth to have the same opportunities in life that we want for our own children. After all, when the decision is made by our government, it is really we, the community, that are saying, "We need to step in, this child needs support and we can do it better than the family at this time."
Too often, however, this isn't the case. We don't do better. In fact, we do worse. Over the past four years, the average high school graduation rate for foster youth in Santa Clara County is 49%. The California state average is 53%. Our county average for all students is 85%.
Most shocking of all is data that says that the median earnings for young people that age out of foster care in California is just $8,300 per year at age 24. Read that again. It is no wonder that former foster youth are a major part of the pipeline to youth homelessness.
A coalition of government, school, business and nonprofit leaders has been working on a plan to address this problem head on. It starts with big goals. Simply put, the goal is that our foster children will achieve "parity" with their non-foster peers.